Arkansas' Best Chimney Service
Serving 15 Counties in Central Arkansas with Over 25 Years in Business.
When it comes to friendly, professional chimney sweep and fireplace services,
A-1 Chimney Pro is #1!
No other chimney sweep company in Arkansas offers the range of services we do. From installations and upgrades to repairs and maintenance down the road, when you call A-1, you know that you will get the best service available.
To see a full list of services from the best chimney and fireplace company in central Arkansas, click the button below.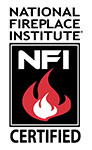 Professional Chimney Sweeping, Repairs and Fireplace Installations
A-1 Chimney Pro is an all-in-one chimney and fireplace service company. We're a local chimney sweep business dedicated to providing you with the best service in central Arkansas. A-1 is also veteran owned and operated so you know that your service comes with the attention to detail to get the job done right.
Rest easy knowing that A-1 Chimney Pro is fully certified and insured. Whether you need to get your dated chimney repaired or you're looking to install a brand new fireplace, we've got you covered with a quality guarantee.
Contact us for all your chimney and fireplace needs. We'll do the dirty work so you don't have to.